Updated as of: August 16, 2021
Introduction
What we do:
Workforce Research Group ("WRG", "Workforce Research Group", "we," or "us") uses employer and employee surveys to assess and determine which employers ("Organizations") are good enough to be recognized as outstanding employers in the various "Best Places Work", "Best Employers to Work for", "Best Companies to Work for", and other employer recognition programs (collectively, "Best Programs") that WRG manages.  WRG assesses organizations and delivers the list of the "Best" to its publication or business partners who then recognize the winners locally or nationally via special events and publications.  WRG also utilizes its employee survey process to conduct employee engagement surveys and reporting projects for a variety of organizations, independent of any Best Program ("Custom Projects").  
General Statement:
Workforce Research Group cares about your privacy and wants you to be familiar with how we collect, use, and disclose data. This Privacy Statement covers the collection, use, and disclosure of data collected via the WRG family of websites including the websites operated by Workforce Research Group, LLC based in Humble TX, USA. 

"Personal Data" is information that could be used to identify an individual or track that individual's behavior and/or location online or through the use of mobile devices.
This Privacy Policy explains what Personal Data (defined above) we collect both on our behalf and on behalf of our customers when they use our Websites or Services, register for our Best Programs or engage WRG to conduct custom research projects. ("Custom Projects"). It also describes why we collect Personal Data, how that data is used and shared, and your choices concerning our data practices.
Please read this Privacy Policy before using our Websites or providing us with your Personal Data, and contact us as provided in the "Contact Us" section below if you have any questions.

For Everyone:  When using WRG Websites providing us with Personal Data (where permitted by applicable law), you are agreeing to the practices described in this Privacy Policy and the Cookie Policy referenced below, and to the updates to these policies posted here periodically.
 
For the  EEA:  If you are located in the European Economic Area ("EEA"), this Privacy Policy is notice of how we, as a controller, process your Personal Data. If we require permission from individuals in the EEA in connection with the processing of their Personal Data, permission will be acquired adhering to applicable data protection laws.

To stay up to date with the latest changes to this policy, you should check these policies periodically. The "Updated as of" date is shown above.
Site Visitors and Their Commercial Organizations (Organizations).
We collect and process Personal Data from direct visitors (sometimes "you" or "your") to our websites ("Website Visitor").  Many Website Visitors represent their organization when registering for our Best Programs and Custom Projects.  We process Personal Data of registered organizations' employees and business contacts as provided to us by those organizations for processing in connection with our Best Programs and Custom Projects.
Information We Collect
Personal Data Voluntarily Provided Through the Websites
We only gather Personal Data that is voluntarily provided by you in a variety of possible ways, including but not limited to: 
a. Registering for a Best Program
b. Completing a "contact us" form. 
c. Completing the Employer Survey. The Employer Survey is a mandatory part of all Best Programs assessment processes and is completed by an organizational representative.  As part of the Employer Survey, we also collect information about the organization such as benefits, policies, practices, and workplace demographics ("Organizational Data").
Once we have collected personal data (e.g., "a.", "b.", and  "c." above), we may send follow up communications to clarify the information, provide additional instruction or send you information about our company.   
If an organization makes a Best Program's winners list, any and all Organizational Data collected through the Employer Survey process could be used by the authorized program partners at a public recognition event or in a recognition publication (online or print) and distributed publicly (see specific Best Program website for authorized partner list). 

If an organization does not make the Best Program winners list, that organization's Organizational Data will not be shared with the authorized Best Program partners or be made public. 
Payment Information
When an organization pays Best Program registration fees (including customizations and add-on services), buys access to reporting, or makes a purchase from any of the WRG websites, WRG collects certain payment and billing information, such as billing address, payment card details (if applicable) and bank account information (if applicable).

Employee Surveys 
When an organization registers to participate in a Best Program, the organization will be asked submit employee business email addresses through a secure online portal.  They will also be asked to give WRG permission to send survey invitations to the email addresses submitted.  The email invitation describes the anonymity and security of the process and includes a link to unsubscribe.  In U.S. based Best Programs, participants have the option of utilizing paper employee surveys instead of online surveys. 
The business email addresses submitted will not be used for any other purpose other than to send the WRG Employee Survey for the designated Best Program.  WRG will retain the submitted business email addresses for up to 2 years.  The only use of these emails will be for additional follow-up surveys, as requested by the organization.
WRG will use the gathered data to determine if an organization is good enough to make the Best Program winners list, to create aggregated reports for the employees' organization, and for aggregated benchmark reports.  No individual employee responses or data will be released to anyone, including the employees' employer.   
To have email addresses deleted sooner, an employee can "unsubscribe" in the invitation email, or the employee's employer can contact us with the removal request.   Use the "Contact Us" section below.
Workforce Research Group will never share an employee's individual survey completion status or specific survey responses with their employer or any third party, unless compelled to legally.

Automatically Collected Data (Involuntary)
When you visit WRG Websites, we may automatically collect information about your use of our Websites, including by using cookies.  Please see our Cookie Policy to find out more about how we use cookies.
 Personal Data Used for Marketing Purposes.
Workforce Research Group may use Personal Data submitted voluntarily (see above) to send information about other or future programs, events or similar promotions. If we do so, each marketing communication we send will contain instructions to "opt out" of receiving future marketing communications. Note however, that you cannot opt-out of some administrative communications that are reasonably necessary in connection with your participation in our Best Programs, such as billing or service notifications. In addition, if at any time you do not wish to receive any future marketing communications or you want to have your name deleted from our mailing lists, please contact us as provided in the "Contact Us" section below. The list of employee business email addresses provided by an Employer Organization for survey purposes will not be used for marketing, and are only used to send invitations to the Employee Survey.

Where required by applicable law (such as in the EEA), we will obtain your opt-in consent to receive such information, either through the registration process of one of our Best Programs or other opt-in means.  You will always have the right to remove your consent, or opt-out, from receiving WRG communications.  
Other legitimate business purposes for Personal Data Use
Your Personal Data may be used for other legitimate business purposes such as, but not limited to:
Responding to questions, comments, or other feedback
Analyzing how users interact with our websites to improve, such as Google analytics or other means to understand Website Visitors usage.
Ensuring the cyber security of our websites and systems and to prevent criminal activity, or misuse.

 

Complying with legal obligations and legal process and to protect our rights, privacy, safety or property, and/or that of our affiliates, you or other third parties, and recover debts due to us.
Disclosure of Personal Data
We share Personal Data with our third party service providers as needed to assist us in operating our Websites, conducting our business, and providing services to our customers. These service providers include survey administration software vendors, website hosting partners, data centers, sign-on authentication software providers, website analytics companies, advertising technology companies, providers of CRM, marketing and sales software solutions, call tracking and online chat providers, customer support providers, and providers of billing, order management and payment processing functions. Where these parties have access to and process Personal Data on our behalf in the course of performing their duties to us, they are required to keep the Personal Data confidential and secure.
Best Programs Authorized Program Partners.
If an employer organization is participating in a Best Program, WRG may share the supplied  Organizational Data, including contact information, with the relevant Best Program partners. Best Program partners may contact participants to inform about participation in programs, provide information about recognition plans (winners only), solicit for event tickets, recognition advertising, logo licensing, and other services that may be available in conjunction with the Best program.   
In addition, WRG allows its authorized program partners and sponsors to place links to their organizations on WRG Websites.  These links lead to third party, non-WRG Websites where other privacy and cookie policies may apply.  
In addition, WRG may also share Personal Data of participating employers with our business partners in order to inform you about services we or they believe may be of interest to the employers. If WRG sends you marketing communications, each one will contain instructions permitting you to "opt out" of receiving future marketing communications. Where required by applicable law (for example, if you are an individual in the EEA), we will only send you marketing information from our business partners and advertisers by email if you have consented to us doing so at the time you provide us with your Personal Data.
Business Transfers
Personal Data and other information provided to us may be transferred to a successor or affiliate as part of a change of ownership, merger, receivership, or transfer of service to another provider.
Legal Requirements
Personal Data may be disclosed to a third party or affiliate if required to do so by law or in the good faith belief that such action is necessary to (i) comply with a legal obligation or lawful request by public authorities, (ii) protect and defend the rights or property of Workforce Research Group, LLC, (iii) act in urgent circumstances to protect the personal safety of users of the Websites or the public, or (iv) protect against legal liability.
Security
Securing Personal Data is a priority at WRG.  Reasonable steps and measures are in place to guard against breech or other misuse, legal or otherwise, of your Personal Data.  Our Websites scanned regularly for security holes and known weaknesses. WRG employs secure networks to protect Personal Data and is only accessible by a few authorized people at WRG. 
 
"Cookies"
"Cookies" and similar technologies are used though web browsers to track and remember certain information about a user and their behavior while online (if the user allows).  
WRG and its affiliates, and our third party providers and partners, use cookies and other technologies to optimize the functionality of their websites.  Some use the information gained from the use of cookies to customize and send promotional, interest-based content to their users. 
For more information about the cookies read our Cookie Policy.
Third Party Links
WRG websites may contain links to other websites not operated or controlled by WRG.  Our Privacy practices, described herein, do not apply to non WRG, third party websites.  Each website should have its own set of privacy policies and cookie policies.  WRG has not reviewed nor do we endorse any of the cookie or privacy policies that may be on the third-party Websites linked to from our websites. 

California Do Not Track Disclosures
WRG does not currently respond to "Do Not Track" signals sent by your browser or mobile application. It operates, instead, as described in this Privacy Policy, whether or not a "Do Not Track" signal is received. If we change our practices in the future and begin to respond to "Do Not Track" signals, we will update this Privacy Policy accordingly.

Children
Workforce Research Group does not knowingly collect Personal Data from children under the age of 13 (or 16 where required by applicable law) without parental consent. If you have reason to believe that a child under the age of 13 (or 16 where applicable under law) has provided Personal Data to Workforce Research Group through a Site please contact us as provided below in the "Contact Us" section with sufficient detail to enable us to delete that information from our databases.
Individuals in the European Economic Area (EEA)
This section applies only with regard to Personal Data WRG collects from individuals who are based in the EEA.
EEA-Controller.
Workforce Research Group, LLC is the controller (as defined under the General Data Protection Regulation (GDPR)) for processing and using the Personal Data of EEA individuals that is collected through our websites. 

EEA-Rights of Individuals Based in the EEA.
Subject to applicable law, you may be able to exercise any of the following rights in relation to your Personal Data:
"Right To Erasure" or "Right To Be Forgotten" - This gives you the right to ask us to delete your Personal Data.
Right to withdraw consent: If we rely on your consent to use your Personal Data, you have the right to withdraw that consent at any time. This will not affect our use of your data before we received notice that you wished to withdraw your consent.
"Right Of Access" – This gives you the right to find out what, if any, Personal Data we have about you, how we process it, and to request a copy of the Personal Data.
"Right Of Rectification" – This gives you the right to ask that we correct or complete any Personal Data we have about you.
"Right To Restrict Processing" – This gives you the right to ask us to change how we use your Personal Data in certain circumstances.

 

"Right To Data Portability" - This gives you the right to ask to receive your Personal Data from us in a structured, commonly used and machine-readable format or to have it transmitted to another controller.

 

"Right to object" – This gives you the right to ask us at any time to stop using your Personal Data.

 

Right to file a complaint with the supervisory authority: If you have a concern about our privacy practices, including the way we handled your Personal Data, you can report it to the supervisory authority that is authorized to hear those concerns in your jurisdiction.
"Right in relation to automated decision-making and profiling":

 

You have the right to be free from decisions we may make that are based solely on automated processing of your Personal Data, including profiling, if they produce a significant legal effect on you, unless such decision-making or profiling is necessary for entering into or performing a contract between you and us, or is made with your explicit consent.
You may exercise your rights by contacting us as indicated under the "Contact Us" section below. 
To change your consent settings for our use of cookies and other technologies, please see our Cookie Policy.
 EEA - Legitimate Interest.
"Legitimate interests" means the interests of Workforce Research Group, LLC in conducting and managing our organization.  If there is a use of your Personal Data that can be used, for example, to help us prevent fraud, increase security, or improve a website user's experience, that would be allowed as a legitimate use of your Personal Data.
Use of Personal Data of an individual based in the EEA, as described above, is necessary for the legitimate interests of WRG to conduct employer and employee surveys as part of our Best Programs. 
Our legitimate interests do not automatically override your interests. We will not use your Personal Data for activities where our interests are overridden by the impact on you, unless we have your consent or those activities are otherwise required or permitted by law.  
EEA-Data Transfers to the United States.
Because WRG is based in the United States, your Personal Data will be transmitted to our service providers' servers which are also based in the United States.  This is necessary to conduct our core operations which include communicating with you and conducting our survey business.  The United States may have data protection laws less stringent than or otherwise different from the laws in effect in the country in which you are located. 
Data Retention.
We will keep your Personal Data only for as long as is reasonably necessary for the purposes outlined in this Privacy Policy based on the context in which you provided it, or for the duration required by law, whichever is longest.


To determine the appropriate retention period for your Personal Data, we will consider the amount, nature, and sensitivity of the Personal Data, the potential risk of harm from unauthorized use or disclosure of your Personal Data, the purposes for which we use your Personal Data and whether we can achieve those purposes through other means, and applicable legal requirements.

Changes to our Policy
It may be necessary to make changes and/or update this Privacy Policy. We reserve the right to update or modify this Privacy Policy at any time without prior notice unless otherwise required by applicable law. Please review this policy periodically, and especially before you provide any Personal Data. If permitted by applicable laws, your continued use of the webites after any changes or revisions to this Privacy Policy shall indicate your agreement with the terms of such revised Privacy Policy, without prejudice to your rights under applicable laws.
12. Contact Us
General Contact Information:  If there are any questions regarding this Privacy Policy or our Cookie Policy, you may contact us using the information below.

General Data Protection Regulation (GDPR) - European Representative: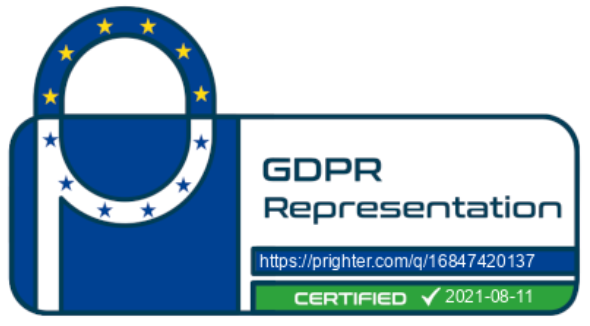 We value your privacy and your rights as a data subject and have therefore appointed Prighter as our privacy representative and your point of contact.
Prighter gives you an easy way to exercise your privacy-related rights (e.g. requests to access or erase personal data). If you want to contact us via our representative Prighter or make use of your data subject rights, please visit: https://prighter.com/q/16847420137 
.